Main Content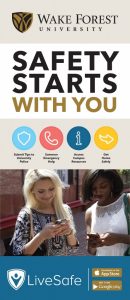 LiveSafe is a free personal mobile application for Wake Forest University students, staff, and faculty to engage in a two-way conversation with WFU police. With LiveSafe, you can use your cell phone as a personal security device that allows direct access to police, 911 emergency services, emergency location sharing, information sharing with quick tips, and a peer-to-peer SafeWalk tool. Registration with a Wake Forest University email address is encouraged.
HOW TO DOWNLOAD: To download the Wake Forest LiveSafe App, visit the Apple App Store (for iPhones) or Google Play Store (for Androids).
Search for and download "LiveSafe".
Register with your email and fill out your profile. Be sure to verify your email address.
Choose "Wake Forest University" as your school. You're set!