Main Content
The Wake Forest University Police Department provides students, faculty and staff the opportunity to experience a variety of impairment  levels, in a safe environment through the use of Fatal Vision goggles.
Fatal Vision Goggles are training tools used to visually demonstrate various levels of impairments and the dangers of impaired driving.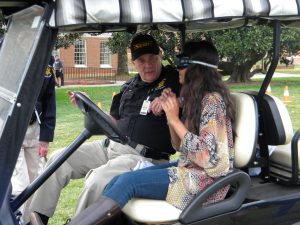 Nationally, about 30% of traffic fatalities involve drunk drivers.
Last year 11, 773 Americans were killed in alcohol related crashes.
About three in every ten Americans will be involved in an alcohol-related crash at some time in their lives.
A first time drunk driver, on average, has driven drunk 87 times prior to being arrested.
The Goggles distort vision and cause the wearer to behave similarly to one impaired by alcohol or drugs.
The demonstration of the Goggles often includes the wearer attempting to  throw tennis balls back and forth to other students, attempting to walk a straight line, as well as other various skills to demonstrate the difficulty of performing basic tasks while wearing the Goggles.